5
Oct 7, 2019
2-person flat, in spacious apartment, 5-10 min.from...
420 €
1
1
Oct 7, 2019
ID: 5477556
 110 m² Apartment in 1-family house with a small courtyard. Suitable for 2-er WG . Fully furnished,   2 bedrooms, a large living room with integrated kitchen and all tools and utensil and a small storage room, bathroom with 2 sinks, shower and toilet, anamaire ,  extra room with Washing machine and dryer. Bicycle storage. Central heating The...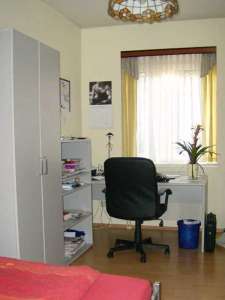 5
Oct 4, 2019
Room for rent-the most beautiful of Krems
430 €
1
1
Oct 4, 2019
ID: 8671536
In a well-equipped 130 m² large ß en apartment with loggia in the Langenloiserstra ß e against ü the Europaschule/HLF and N ä he center (5 minutes to Fu ß) is a large ß 's room free in a WG . The rent includes a room ö blistered room and the ü the apartment with loggia and the amenities in it: - ) Einbauk ü che with s ä...
5
Austria
290 €
The shared rooms are located in the  centre of Krems, within walking distance of the Universityäten, or are bank, post office, bäckerei and cafés right in front of the apartment. The shared rooms can be fully furnished. Also included: Internet Free from 16.09.2019: 1 room